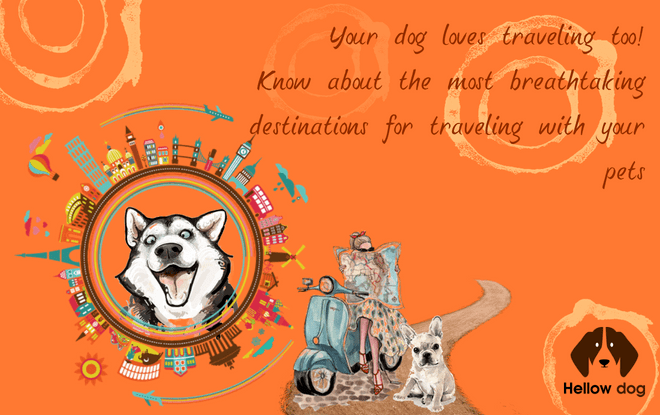 Your Dog Loves Traveling Too! Know about the Most Breathtaking Destinations for Traveling with Your Pets
Holidays are a great experience for all the family. But sometimes the experience doesn't always cater to the family dog. Luckily, it doesn't have to be that way. No longer will you need to find a friend to watch your canine whilst you're off on vacation. No longer will you feel guilty about leaving the dog in a kennel for days, sometimes weeks on end.
New York travel company AllTheRooms has got you and your pooch covered. We've compiled a list of the most breathtaking destinations you and your dog will adore visiting. Pack your case and the treats; it's bound to be a holiday neither you nor your four-legged friend, will forget.
Beach Holidays
One perfect trip to take for you and your dog is a vacation to the beach. Dogs, as you know, are lead by their sense of smell and hearing, and the beach provides an array of new and exciting scents, sights, and sounds for them to enjoy.
Instead of leaving your companion at home, bring them to the beach with you! Your dog is guaranteed to have fun, splashing in the waves, running through the sand, and meeting other dogs. Plus if you want a peaceful evening whilst on your holidays, letting your dog round around the beach for an entire day will certainly tire them out for the night.
San Diego
This Californian city is known for its warm climate, beautiful parks, and stunning beaches. Not only will San Diego be a favorite with your pooch, but you're bound to love it also. There are so many reasons why taking your dog on vacation to San Diego is a great idea:
You'll find 16 off-leash parks in the area. These include a number of 1-acre parks such as Capehart Park, Dusty Roads Neighborhoods Park, and Torrey Highlands Park. As well as larger parks such as the 2.66-acre Rancho Bernardo Park. Many of these off-leash parks are open 24 hours and are equipped with drinking fountains, park benches, and turfed areas to separate large and small dogs from one another.
There are dog-friendly restaurants. A whole 187 of them! Check out the Lighthouse Ice Cream shop serving ice-cream for the humans as well as Frosty Paws (a high quality, no sugar, protein treat) for your dog. And if you're pal really works up an appetite, don't miss Original Paw Pleasers, the dedicated dog bakery.
It's home to Dog Beach. You can spend the entire day walking, running or swimming with your dog at one of the first official leash-free beaches in the United States.
City Breaks
Cities are great for both you and your pet, with a much wider choice and variety of restaurants (dog-friendly of course), plenty of parks and other dog-friendly activities to indulge in. You may have previously dismissed the idea of taking your pedigree friend on a city getaway, but these pet-accommodating cities are worth changing your mind.
Seattle
Although Seattle is a city, it works hard to maintain it's luscious green spaces. From East to West of this great city you'll find stunning mountain ranges lining the horizon, and you may be surprised to know that Seattle Parks and Recreation manages over 485 parks. Go anywhere in this city, and you'll find a little bit of nature.
Besides the parks, Seattle is said to be one of the most popular big-city destinations for dog-lovers in the U.S. Here's why:
Plenty of parks and green areas. There are 14 off-leash parks in the Seattle area. Alternatively, as long as your dog is on a leash, you can visit many of the other parks and green spaces in Seattle too.
There are indoor dog parks. In the Seattle metro area, you will find House of Ruff (in the Central District) and Dogwood Play Park (North Seattle) to roam around inside - great for the rainy season.
Tons of dog-friendly activities. Climb aboard the Sunday Ice Cream Cruise, which takes you and your pet on a tour of Lake Union complete with music and snacks. There are great views of Seattle, plenty of fresh air and dogs are naturally welcome along.
Nature Holidays
For a lot of people, vacation is a time to escape the city and the hustle and bustle of everyday life. They want to get away from it all and retreat back to nature. And these types of holidays are a fantastic choice for you and your dog. What could be more relaxing than going for walks in the fresh air with your furry friend and incredible scenery surrounding you?
The Finger Lakes, New York
In Upstate New York, you'll find The Finger Lakes, consisting of 11 freshwater lakes. A famous resort all year round, visitors here can hike, bike and fish. Or if you fancy seeing a little bit more of the wonderful nature in the area, head to Watkins Glen State Park, where you'll see not one waterfall but nineteen.
They are also known to produce excellent wines in the region, as well as being home to a number of hard-cider producers, distilleries, and breweries. But what makes it such a dog-friendly holiday destination?
You can bring your pets to the wineries. In the Finger Lakes, there are more than 100 wineries that welcome pets and people alike. Such wineries include Red Tail Ridge, Fox Run, and Kings Garden.
The Watkins Glen State Park, which allows dogs to visit as long as they stay on a leash at all times. Spend your day in the fresh air exploring the beautiful site without having to worry about your dog being at home.
International Holidays
Some holiday-goers want to travel a little further from home and decide to take their dog overseas. With long-distance travel comes lots of things to plan and organize, but first, you need to make sure you pick the right destination for you and your pet.
Scotland
Looking for a relaxing holiday? Scotland is the perfect country for you. If you want to explore the cities, there's the historic capital Edinburgh and the artsy city of Glasgow. In both places, you'll find a number of pubs and restaurants that welcome dogs into their establishments. You can enjoy a well-deserved drink, whilst your pooch snoozes at your feet!
If you prefer somewhere with a slower pace, where you can take long walks in the fields, surrounded by hills and lakes, there are even more options to choose from in Scotland. For a dedicated dog walk why not head to the Gatehouse of Fleet, where you can let your dog off the leash and roam amongst the oak and crab-apple trees. Or if you want to take a walk around some of the stunning National Parks in the country, we recommend you head to the very first Loch Lomond and The Trossachs National Park. Here you can walk your dog on the paths, but you must keep them under control at all times.
France
We couldn't make a list of breathtaking destinations to explore with your dog without mentioning France. It's said to be one of the most dog-friendly nations on Earth, with many cafes and restaurants allowing dogs inside. A lot of places will even provide your four-legged companion with drinking water and treats.
If you're heading over from the U.K it may be worth sticking to the French ports, where you'll be greeted with delightful views, plenty of beaches for your dog to play on and lots of sea air. However, it's important to note that in the summer some beaches will have restrictions on the times you are able to take your dog to the beach. This usually limits walks to the early mornings and evenings when temperatures are cooler, and there are far fewer crowds.
In the area of Brittany in the South, you'll find Plouharnel, a fantastic and truly breathtaking place to spend your vacation. Dogs are allowed on the beaches all year round as long as they are on a leash. Your pooch can then splash around while you soak in the stunning stretch of wild sand dunes along the coast close to Penthièvre.
Lake District, England
Located in the Northwest of England is the Lake District. As England's largest National Park, space has also become a World Heritage Site. For those with interest in mountains, the Lake District is home to England's highest mountain Scafell Pike, which stands over 3,208 feet above sea level.
Seeing as the Lake District is home to some areas of incredible natural beauty, it's a great place to take a vacation with your dog. With plenty of green spaces, dog-friendly cottages, and pubs and restaurants, this area is a top pick to meet fellow dog-lovers and escape into the great outdoors.
---
Most Popular Dog Lover Blogs